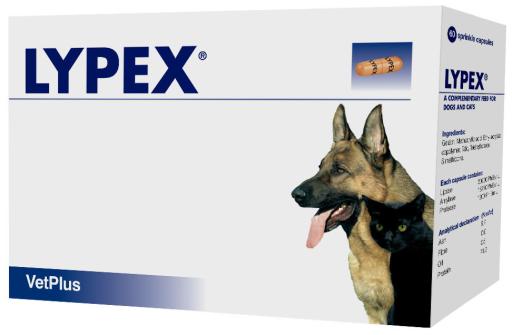 Reviews of VetPlus Lypex for Pancreatic Problems in Dogs and Cats
Most positive review
My German shepard was diagnosed with EPI a week before Christmas, sourced and ordered from this site, delivered before Christmas, very happy with product, dog showed big improvement within a couple of days, seemed to have gained some weight already and behaving normal again, very active dog, highly recommend this product for pancreatic insufficiency, tablets are hard to source & more expensive from vet so this site is a god send for my dog. Gone from 27kg feeding approx 1200g a day to 500 g a day and a weight gain. Perfect
Most critical review
I was very happy with the price and the delivery was fast. I will definitely order from you again as my cat requires this medication twice a day. Many thanks for the excellent service.
I would highly recommend these I have used these for my dog for a good few years now and cheaper buying from miscota.
My German shepard was diagnosed with EPI a week before Christmas, sourced and ordered from this site, delivered before Christmas, very happy with product, dog showed big improvement within a couple of days, seemed to have gained some weight already and behaving normal again, very active dog, highly recommend this product for pancreatic insufficiency, tablets are hard to source & more expensive from vet so this site is a god send for my dog. Gone from 27kg feeding approx 1200g a day to 500 g a day and a weight gain. Perfect
It's really good . Been giving it to my little yorkie for almost 2 years
It's fantastic. I am going too buy another box now.
Highly recommended for dogs with Exocrine Pancreatic Insufficiency (EPI).
Effective product. Great!!
I was very happy with the price and the delivery was fast. I will definitely order from you again as my cat requires this medication twice a day. Many thanks for the excellent service.
I was very happy with the price and the delivery was fast. I will definitely order from you again as my dog requires this medication twice a day. Many thanks for the excellent service.
Great price. My dog would not survive without this product. He has been taking them for years but I have just had to increase the dose.
Pedido recibido en plazo y forma. Todo correcto. Muy contento con el servicio dispensado. Han ganado un cliente.
Dentro dos preos da concorrencia
Es un producto esencial para la salud de mi perra de 12 aos que sufri pancreatitis.
Ottimo rapporto qualit-prezzo
Lypex tem servido para ajudar a manter um melhor funcionamento do pncreas do meu co.
Muito bom enzima, tanto para ces como para gatos, sendo que rende mais para gatos por ser metade da dose a administrar. O meu gato j toma estes enzimas h mais de 4 Anos e tem uma melhor qualidade de vida
Prodotto ottimo per la carenza di enzimi del pancreas
Apesar de ser um suplemento dispendioso, tem feito muito bem ao meu gato. Toma este suplemento por insuficincia enzimtica do pncreas e desde que o toma anda muito bem, h 4 Anos.
Ottimo il servizio per l'ordine continuativo
Muito bom. O meu gato h 6 Anos que toma estes enzimas, para insuficincia enzimtica, e d-se muito bem com o Lypex.
Mejor medicamento que a m Bulma le soluciona su problemas de pranquia.
sul mio pinscher funziona bene
He usado Lypex para mi gata Millie durante ms de un ao y puedo decir que parece controlar su pancreatitis.
Prodotto utilissimo per i cani con problemi di intestino
precio adecuado y rapidez
Fantstico. nico producto efectivo para m pastor alemn.
Bastante caro para un producto de primera necesidad para perros con enfermedades crnicas
Das BESTE für ältere Hunde!
Conforme au produit command !
Lo mejor para perros con pancreatitis
Il prodotto veramente ottimo, il mio cane non potrebbe fare senza
Ottimo prodotto,il mio cane non può farne a meno.
Ha salvado a mi perra de su insuficiencia pancretica
MI EXPERIENCIA ES MALA, POR QUE TODOS LOS MESES TENGO PROBLEMAS CON LA ENTREGA
Creo que bien, aunque ha sido por prescripcin veterinaria.
um suplemento que o meu gato toma h j 3 Anos e que ter que tomar para sempre e que lhe tem feito a diferena para uma melhor qualidade de vida. Aconselho
Pefecto para mi pastor alemán.. lo usamos para la insuficiencia pancreatica.
Buen producto, va muy bien para gatos que vomitan
La medicacin funciona bien a mi mascota.
PRODOTTO ARRIVATO IN OTTIME CONDIZIONI, IMBALLO OK. SPEDIZIONE RAPIDA.
o remdio prescrito e nico no mercado por isso tem sido bom
Encantada con el producto. Tengo un pastor alemn de 3 aitos con IPE y nada le ha hecho efecto hasta que le empec a dar Lypex.
Remdio excelente. Minha cadela ficou tima apos iniciar o suplemento.
Buon integratore a un prezzo conveniente...
Miglior rapporto qualit/prezzo trovato online
Prodotto ottimo per cani con problemi pancreatici
zonder dit kan hond niet leven
tiene de todos los productos y a unos precios muy interesantes
prodotto che utilizziamo gi da un anno ottimo per il mio pastore con pancreas ko.
Il prodotto mi e stato consegnato integro in un idoneo imballaggio esterno, ben protetto e assolutamente anonimo. Se attendere qualche giorno in pi significa avere questa sicurezza (a volte esperienza insegna che nelle consegne troppo veloci ne risente l'integrit del prodotto) mi sento di dire: facciamo tutto entro i limiti del buon senso....
Minha cadela melhorou bastante.
At agora tem sido o nico suplemento aceite pelo organismo do meu gato. Estou deveras satisfeita e ele est bem melhor.
Prodotto come da descrizione. Perfetto
sobre todo el precio, es bastante mas econmico que cualquier sitio
pues como ya he dicho son rapidos y mas econmicos que en ningn otro sitio
Pastore tedesco di 8 anni con problemi intestinali molto gravi. Perdita di peso di 10 kg in 2 mesi. Da quando uso Lypex ne ha riacquistati 12!!!
Prodotto ottimo. Solo un pò troppo caro per chi, come me, costretta a somministrarlo a vita... Prezzo a parte CONSIGLIATISSIMO!!!!!
Il mio pastore tedesco, oltre ad avere un tumore, aveva un'insufficienza pancreatica che le è quasi costata la vita perchè scoperta tardi. Da 4 mesi il veterinario mi ha consigliato Lypex. Ha recuperato i 10 kg persi, ha 8 anni ma la voglia di correre, saltare, giocare come se fosse un cucciolo.
Uno dei prodotti migliori mai provati.
Unico neo. Il prezzo molto alto. Anche se penso che veder il mio cane con questa vitalità, non ha prezzo!!!!
mi ha salvato il mio cane
Salva vita per il mio cane
Medicamento clave para mi pastor aleman con insuficiencia pancreatica exocrina
Arrivato mediamente in tre giorni. Il ns cane non può più farne a meno. Ha recuperato il peso è finalmente è tornato a correre.
A Lucca le funciona perfectamente, tiene mas vitalidad que antes
ottimo prodotto per problemi pancreatici consegne puntuali
Prodotto eccezionale in ogni senso , e servizio ottimo !!!!
buen producto y servicio......................................................................................
Si tratta dei migliori enzimi pancreatici attualmente in commercio. Per i cani con insufficienza pancreatica sono vitali. Il prezzo, rispetto ad altri siti è il più competitivo ma sempre altissimo. Il pacco è arrivato in tre giorni puntualissimo.
Les produits Vetplus sont vraiment très bons et le Lypex est un allié du Samylin en cas de troubles hépatiques. Recommandé par ma véto.
Tras haber intentado diferentes vías, mi labradora de 20 meses por fin tiene mejor calidad de vida, ya que siempre estaba con constantes diarreas y por lo tanto desnutrida y sin energía. Ahora es pura vitalidad. El problema, día que no se toma la pastilla, día que vuelve a lo mismo. Espero que a medio plazo su propio cuerpo responda de manera que Lypex pase a ser algo secundario.
Top Ware zum besten Preis, schnelle Lieferung - empfehlenswerter Händler.
Da quando la cagnolina prende LYpex è rinata: ha recuperato il peso perso (era arrivata a pesare la metà del suo peso), ha voglia di giocare e il suo pelo è tornato bello e folto. Non può assolutamente vivere senza di esso. I tempi di spedizione di solito sono stati brevi: pochi giorni. Unico neo: il prezzo del prodotto. Adriano. Italia
Il prodotto è arrivato integro, è un ottimo integratore per il mio pitbull con problemi al pancreas. Ora il cane sta già molto meglio.
El medicamento cumple correctamente su función y ayuda a nuestro Scotty a poder llevar una vida normal. Los envíos, super rápidos.
Todo muy rapido y contenta. Lo pedi y en pocos dias me lo trajeron, como no me encontraba en el domicilio me llamaron preguntando que dia me iva bien y hora. I asi fue.
Prodotto indispensabile x il mio cane corso.
Spedizione un po' lunga e il pacco arrivato schiacciato (senza però danni al prodotto
Ottimo prodotto per l'insifficirnza pancreatica e come integratore enzimatico del mio cane lupo cecoslovacco .I tempi di consegna sono stati di 10 giorni, un pó lunghi .
Prodotto buono e arrivato integro in data comunicata, elemento indispensabile per il mio pastore tedesco con insufficienza pancreatica
Luigi F.
Ottimo prodotto,indispensabile per il mio pastore tedesco con epi,servizio Miscota preciso e consegna puntuale.
Prodotto Buono/ottimo per insufficienza pancreatica. Servizio Miscota buono, mentre per la consegna tempi un po' lunghi 6/7 gg dall'ordine
Servizio ottimo e molto rapido . Lipex e' un medicinale assolutamente necessario per il mio beagle Jack.
My dog would die without these pills. If you have an Alsation type dog which is losing weight, this is the answer.
Ottimo servizio e puntualità . Il lipex e' un medicinale assolutamente necessario per il mio cagnolino.
Prodotto indispensabile per cane con insufficienza pancreatica. Servizio Miscota ottimo, preciso e puntuale.