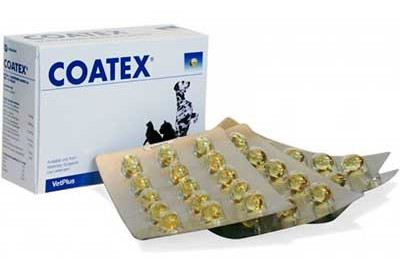 Reviews of VetPlus Coatex for Hair and Skin Care for Dogs and Cats in Capsules
Been giving this to our retriever for a year now, huge improvements on the colour and volume of her fur.
De momento noto que se rasca menos
Mi perra le a ido genial para dermatitis atópica
Todo bien ya no se le cae el pelo
el pelo de mi perro brilla y esta mucho mas sano
un producto genial , mi perrita tiene dermatitis atopica y le ayuda muchisimo con los picores y heridas que suele hacerse debido a la picazon
Ayudan mucho a mi pinscher en épocas de caída de pelo
Mi perra sufre de dermatitis y con estas capsulas le ha mejorado muchisimo los picores
Se las llevo dando desde hace 4 meses y tenia todo el lomo sin pelo, y ahora mismo solo le queda una pequea calva de unos 2cm, ha recuperado casi todo, Mi perro es un cruce de Yorkshire
Me encanta este producto, vuelve
Llevo poco tiempo dndoselo a mis perros. En breve empezar a notar los cambios
Ya lo haba comprado anteriormente.
Muy bueno para los trigliceridos alto de mi perro.
Mi perro tiene exema y le va fenomenal
um produto muito bom para a pele e pelo dos animais
Excelente producto. Muy bueno para la el pelo y la piel de mis perras.
Me encanto y a mis perros mas
Muy bien, noto como el pelo le crece ms fuerte y poblado en las zonas donde escaseaba.
Todava es pronto para ver resultados. Las cpsulas se las toma sin problema.
Muito bom para a pele e plo dos animais
Ideal pausa Pieles con alergias, a mi bodeguero le va muy bien
Gran soporte para la salud de mi perro
excelente producto para la recuperación del manto
Buen medicamento para la piel i peli.
Perfecto para la piel y el pelo
Todo bien van perfectas para problemas de caida de pelo y brillo
Buen producto. Me lo mand el veterinario para los problemas de alopecia de mi perro con hipotiroidismo y en ello estamos.
Genial de precio y composicin
Me lo ha consigliato il mio veterinario per il mio cucciolo ma non lo conosco molto bene come prodotto pet
Lo toma hace tiempo y tiene un pelo precioso
A mi peludo le va genial para sus problemas de pelo y piel
Imprescindible para mi mascota y a buen precio
Son las pastillas que pedi
Prodotto ottimo,gi provato in passato quindi a colpo sicuro.
Estupendo para la piel del perro
Me lo recomendaron para ayudar con problemas de pelo y piel y desde q lo usa est bastante mejor,le crece el pelo,ya no se le cae y le brilla mucho
Es la primera vez que pido este producto y an no puedo decir si funciona bien. Espero que si.
Recomendable para perretes con pieles sensibles
Lo utilizo habitualmente y le va muy bien a mi perro
Es sper bueno, el aceite qu contienen las cpsulas son muy buenas para la piel de mi perrito
Es un producto que ya he comprado en otras ocasiones . Da excelente resultado a partir de los 7/10 das
Recomendable para cualquier perro o gato mejora su pelo y piel
Es un buen suplemento para la cada del pelo animal
MAGNIFICO PRODUCTO PARA EL PELO DEL PERRO
Producto muy bueno en omega 3,para perros con problemas de piel
Cre que es un medicamento excelente para los problemas de piel de mi mascota. Adems es muy facil de que l se lo tome, debe de ser bueno, ya qu s lo pongo en el pienso y se lo toma, asi de facil
Va muy bien para los problemas de la piel. A mi perro, en algunas zonas le sala como caspa y no paraba de rascarse, ahora se le ha ido y casi no se rasca.
Excelente producto. Nefastas condiciones en las que se me enva, con una de las cajas aplastada con casi la mitad de sus capsulas inutilizables.
Gran complemento alimenticio. Sin duda ya noto los efectos en mi perro
O meu frenchi d-se muito bem com este produto.
A mi peludo le encanta, se lo toma muy bien
Ottimo rapporto qualit prezzo
Piel más brillante y más sana
Muy recomendable! Nuestra perra tena graves problemas de piel y picazn. Ha ayudado muy bien, el pelaje tambin vuelve a brillar. Lo compro una y otra vez.
Primera vez que lo compro
Lleg en perfectas condiciones. Pero ped uno y me mandaron dos
Ped uno y me mandaron dos pero as tengo para ms tiempo
Mi perra tena serios problemas de cada de pelo en los cambios de estacin, por alergias y temas de esos y desde que lo toma tienen un pelo perfecto
As cpsulas so grandes. Trata-se de ministrar o produto a um gato. Tm a boca pequena!...
De momento se lo estoy dando
Excelente producto para el cuidado del pelo
Para su alegría van geniales
Llevamos usando este complejo vitamínico 6 meses desde que me lo recomendaron para mi bulldog francés y genial, mejora de joker en la piel y sobre todo en el pelo, que tenia bastante caida. 100% recomendable.
La qualité Vetplus au profit du poil. Conseillé par ma véto.
Se lo recomendo el vete para mi muy peludo. Tratamiento de unos 6 meses me dijo.
El se las come como gominolas xD
Muy buen producto para los problemas de piel de nuestros peludos. Uno de mis perros perdió gran parte del manto y después de varios meses tomando Coatex capsulas lo ha recuperado casi por completo.
ottimo prodotto...tempi di consegna troppo lunghi !potreste cambiare corriere x cortesia? vi ringrazio
Ottimo prodotto specie per cani con allergie alimentari che a causa di queste hanno problemi di prurito, forfora ecc.