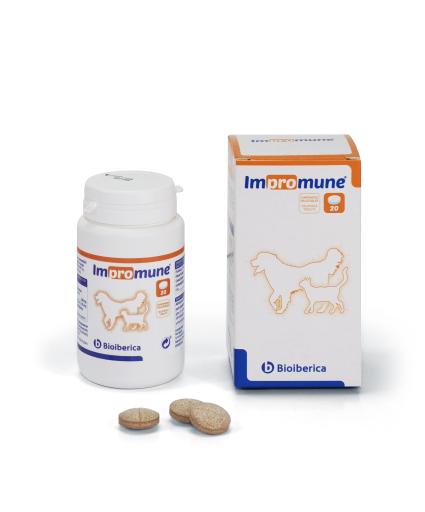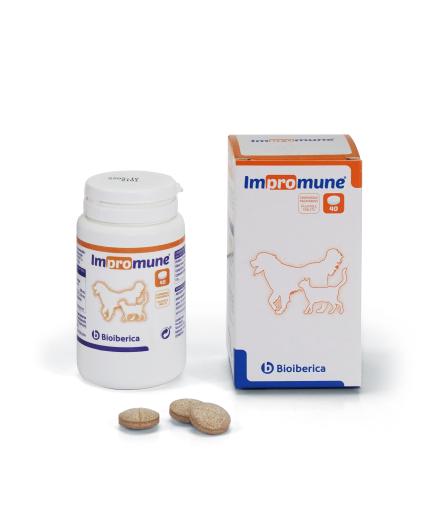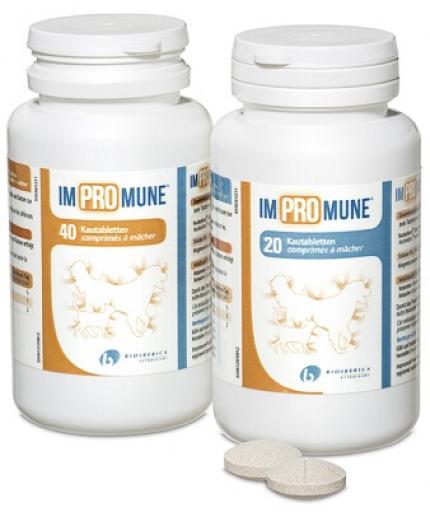 Reviews of Bioiberica Impromune to Strengthen the Immune System
Most positive review
These tablets are great and have helped keep my dog happy and healthy as part of her leishmaniasis treatment. Easy use as they can be disguised in her food or covered in a bit of peanut butter and fed like a treat. A great product!
Most critical review
Have been using for the past three months for my dog who has been diagnosed with leishmaniasis and it seems to be working very well. Would definitely recommend
Good to strengthen immunity of dogs.
Difficult to know how effective it is yet as only just started the course. Highly recommend by my cats vet.
Great product for my dog who has leishmaniasis and shes been happy and healthy with good blood results while using this medication
excellent immune booster for health compromised dogs and cats
This is controlling and even reducing my dogs leishmaniasis with no other medicing. Not cheap but worth it.
It helps my dog's immune system, he has leishmaniasis and this helps keeping it in check
These tablets are great and have helped keep my dog happy and healthy as part of her leishmaniasis treatment. Easy use as they can be disguised in her food or covered in a bit of peanut butter and fed like a treat. A great product!
My dog has leishmania and this product helps to keep her immune system strong and keep the leish at bay.
i write the same review on this product often and it is recommended by my vet so it seems to work well for my dogs immune system.
Great! Has kept my dog with leishmaniasis happy and healthy for the past 6 months. Very palatable with no side effects. Highly recommend.
Use this daily to support my dog's immune system against Leishmania. So far so good.
impromune was recommended by our vets to aid recovery .
Have been using for the past three months for my dog who has been diagnosed with leishmaniasis and it seems to be working very well. Would definitely recommend
recommended by our vet as supplement and is a regular purchase.
Brilliant price and product keeps my girl healthy
GREAT SERVICE GREAT PRICE , THE IMPROMUNE WERE PERSCRIBED BY OUR VET FOR THE LAST COUPLE OF YEARS SO ITS ONGOING.
Product is not over packaged which is good these days, seems to help my dog.
My dog with both cancer/leishmaniasis is still well 6 months later.
recommended by specialist vet `excellent product..
I have two dogs on Impromune I highly recommend this product it takes 3 to 4 weeks before you start seeing noticeable improvement both my dogs have Leishmania so the immune system is terribly compromised I intend to have blood test done in another 4 weeks and I think the improvement n the blood count hopefully will be much better Outwardly both dogs have put weight on there coats are superb and to all intents and purpose they look like very healthy dogs I would recommend this product to anyone who owns a dog with an immune deficiency but stress this is not an instant miracle it takes time
these were recommended by our specialist vets to help with the recovery of our dog .
Seems to help my dog remain healthy.
I use this to help my pointer with leishmaniasis. He loves it and it seems to help him keep the parasite numbers down as his immune system is stronger
First time using this product only been giving my dog for four days so can not coment yet
Keeping my dog well who had Leishmaniasis and could not tolerate allopurinol.
Excellent. My dog is very well on this product
Rien dire sur le produit.
Excelente. Mi experiencia como complemento para perros con leishmania. Llevo varios años utilizándolo gracias a mi veterinario. Para mi y mis perros es imprescindible.
Mejora la recuperación de mi gata con calicivirus. Gracias.
Producto recomendado por mi veterinaria para perros con leishmania. Lo usamos desde hace casi 2 aos y el ttulo de leishmania de mi perrita ha descendido hasta situarse prcticamente en cero. Son necesarios otros cuidados, no solo estas pastillas, pero es evidente que ayudan a controlar la leishmania.
Mis veterinarias me lo recomendaron y cada 3 meses, toma durante un mes y le va bien. de sabor debe ser bueno, no tengo problema que lo coma, le gusta.
Trop tt pour valuer lefficacit du soutien immunitaire, avis possible seulement aprs 2 mois, suite aux analyses de sang de mon chat FIV . On verra (et jespre en bien)
Mi gatita tiene 14 aos e hipertiroidismo y adems le han encontrado FIV, por culpa de eso ha desarrollado tantas llagas en la boca que no podia comer. Tan solo lleva una semana con Impromune y ya he notado un gran cambio, ahora hasta me pide comida. Lo recomiendo al 100%.
Lo compr para donar a una protectora que lo necesitaba para unos gatos que estn en acogida
Perfecto, para perros con leismania y que tengan el higado o algn otro organo afectado
Prezzi davvero competitivi, spedizione veloce e arrivo con confezione protettiva adeguata
Todo genial!!!!!!!!!!!!!!!!
Perfecto para reforzar el sistema inmune.
Un básico en casa que nunca me falta
Sin duda muy, recomendable
Achat rcent valuer sur du long court
Recomendadas por mi veterinaria para mis gatas con Calicivirus, para mantener bien el sistema inmunitario. Les encanta tomar este suplemento por el olor y el sabor.
Prodotto utilizzato per il mio cane affetto da leismaniosi
muito bom, noto que sempre que o toma o meu gato melhora muito a sua "resistncia".
Bien si no llegaran los botes rotos. Y no del transporte sino e almacen
Muy buena opcin para mascotas con las defensas bajas y propensos a enfermedades.
zeer goed product, perfecte ondersteuning voor honden met leishmania. Mijn hond kan hierdoor zelfs stoppen met de medicatie appurinol tegen leishmania.
Hilft unserem Hund sehr gut bei Leishmaniose
Mi perro tiene leishmania y aunque está negativo hace mucho tiempo, toma de forma diaria este medicamento para sus defensas. Me lo recomendó su veterinaria y esta web es el sitio donde mejor precio he encontrado.
Las analíticas de mi perro siguen perfectas, así que supongo que el medicamento debe estar funcionando muy bien. Hace ya más de 3 meses que lo toma.
Todo tal cual la descripcin
Espectacular se lo doy a mi perra con lesmania desde hace 5 meses, junto con su alupurinol y puedo hills z/d y esta increble la perra, parece que no tenga nada.
Ovviamente si tratta di un prodotto raccomandato, quindi sono andato a colpo sicuro
Prodotto introvabile. Io lo uso per tenere a bada la lesmaniosi del mio cane e funziona.
Lo sto usando in leishmaniosi.
Em termos de qualidade/preo so muito bons, apenas acho que deveriam ser mais palatveis.
Utilizzo impromune per tenere a bada i valori leishmania di uno dei miei galgos, prodotto straordinario, ha salvato la mia creatura. Prezzo, ordine e consegna eccellenti. Miscota una garanzia
il prodotto arrivato nei tempi e sembra fare il suo...il problema il servizio clienti miscota impossibile da contattare
Aiuta davvero, siamo grati!
Ottimo per le difese immunitarie contro la leishmaniosi
Lo utilizo para distintas patologas de mis gatos y mejora de su salud
Ottimo integratore per il mio cane, lo aiuta moltissimo a gestire la leishmaniosi
Excelente producto que no existe en mi país, excelente página
Tengo una gaita malita y esto evita que se ponga peor.
No s si le estar haciendo efecto o no pero se lo machaco y se lo mezclo con comida hmeda y se lo toma bien.
Tengo un gato con calcivirus y se lo doy de por vida, 1 día si y 1 día no, para mantener altas las defensas y ha mejorado muchísimo, los brotes de infección están a raya, y al ser natural no tiene efectos secundarios , una maravilla, el pelaje el estado de las encías..... todo mejora!!! Lento pero muy eficaz
el mejor precio por internet
Mi auguro che sia efficace.
A minha gata no pode deixar de tomar, s pena fazerem comprimidos to grandes para gatos
il miglior prezzo sul web
Buono il rapporto qualit prezzo
Ottimo proddotto, efficace risposta dei mia pet
Se lo estoy dando a un gato enfermo de calcivirus y con la boca muy mal, para aumentar las defensas. Se lo toma bien, machacado en agua y mezclado con la comida blanda. Es pronto para evaluar resultados, porque ahora est con el efecto de un antibitico que le dura 15 das y no lleva mucho tiempo tomando el impromune. De momento lo veo ms contento y activo, tambin con ms apetito. Espero que le ayude y se le puedan espaciar los pinchazos de antibitico
Llevo casi 3 aos dndole estas pastillas a mi gatito que tiene inmunodeficiencia felina y le va genial.
Ottimo integratore! E prezzo conveniente!
Buen producto y eficaz para su finalidad.
Speriamo che abbiano veramente efficacia
Prodotto consigliato dal mio veterinario in quanto il mio cane affetto da leishmaniosi. I sintomi hanno cominciato a regredire dopo il primo mese di assunzione. Consigliatissimo
Prezzo tra i pi convenienti in Europa, il prodotto non ha bisogno di presentazioni, Impromune ha salvato i miei galgos adottati dalla leishmania. Altre parole sono inutili.
Lo cercavo da tanto, ma introvabile qui da me o a prezzi altissimi. Qui da non farselo scappare
Essenziale aiuto che fa rinascere l'amico a quattro zampe
Un producto muy bueno dos de mis perros son positivos en leishmaniasis, lo dos toman impromun y con muy buen resultado Muy recomendable
Eccelente prodotto, aiuta tantissimo la mia cagnolina
ottimo integratore ha rimesso al mondo il mio cane
Molto buono, conforme alle mie aspettative, lo raccomando.
Es realmente lo que necesito
He adquirido este producto tras su prescripción veterinaria, mi bulldog inglés de 14 meses tuvo un problema de dermatitis en las patas y tomó antibióticos durante quince dias. El veterinario me recomendó después que mi perrito tomará este producto durante un periodo de 4 semanas,para fortalecer su sistema inmune y mejorar su pelo y piel, y la verdad es que mi gordo está fantástico, muy alegre ,he notado que su pelo se cae mucho menos y brilla mucho más, e incluso he visto una mejora importante en sus heces que han pasado a ser mucho más consitentes.Estoy contenta con el producto sobre todo porque deben de saber tan rico que Guido se toma los comprimidos sin necesidad de camuflárselos.